When I read a small tweet that many people are going hungry for a cause, I deep-dived to understand more about Sri Sri Raghaveshwara Bharathi Swamijis work! No wonder India is called रत्नगर्भा भारत माता, because we have many such precious pearls in this country serving Ma Bharati with dedication.

Ramachandrapur Math and Sri Sri Raghaveshwara Bharathi seer are working to help poor Hindus for decades and are in the forefront of cow protection. Head Office of the Mutt is located in Hosanagara near Shivmogga, Karnataka.
Seer stresses need to protect Vedic culture and Vedic activities along with other social activities. Few years back he has mobilized Indians across the country for Cow protection and has collected 83M signatures!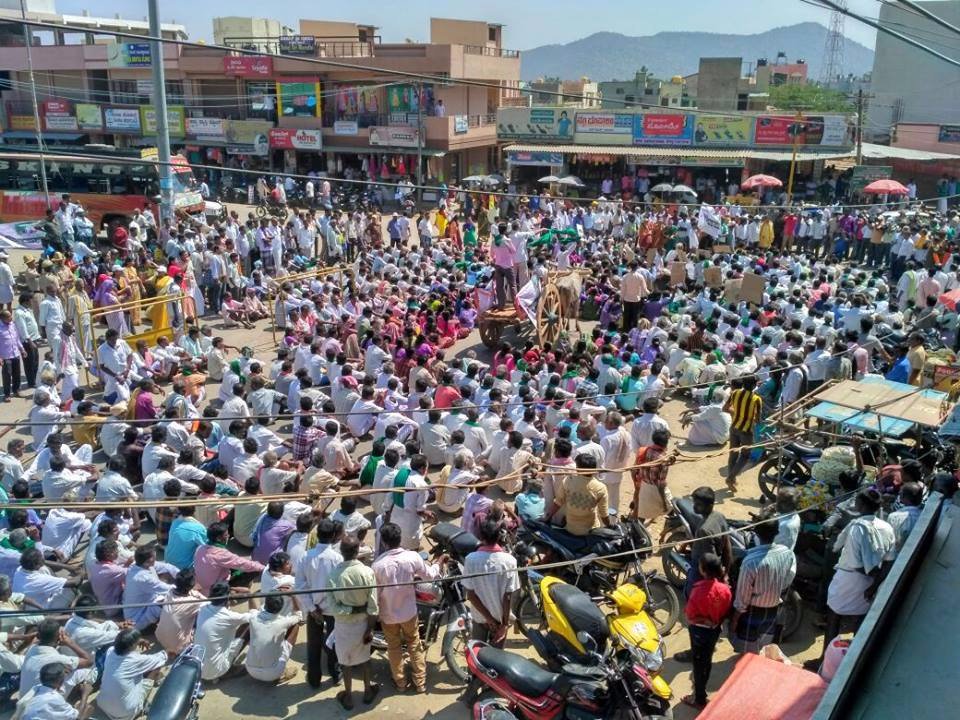 He has also led a protest against mining in & around Kodachadri. For opposing mining activities, he had to face the ire of mining agencies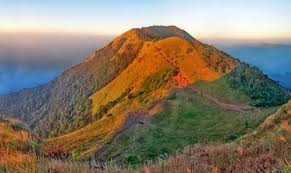 Netas couldn't tolerate Swamiji's good work, tried to take over Mutt, asked to return old govt fund, and many more tortures the Swamiji had to undergo. But loyal disciples stood strongly with him.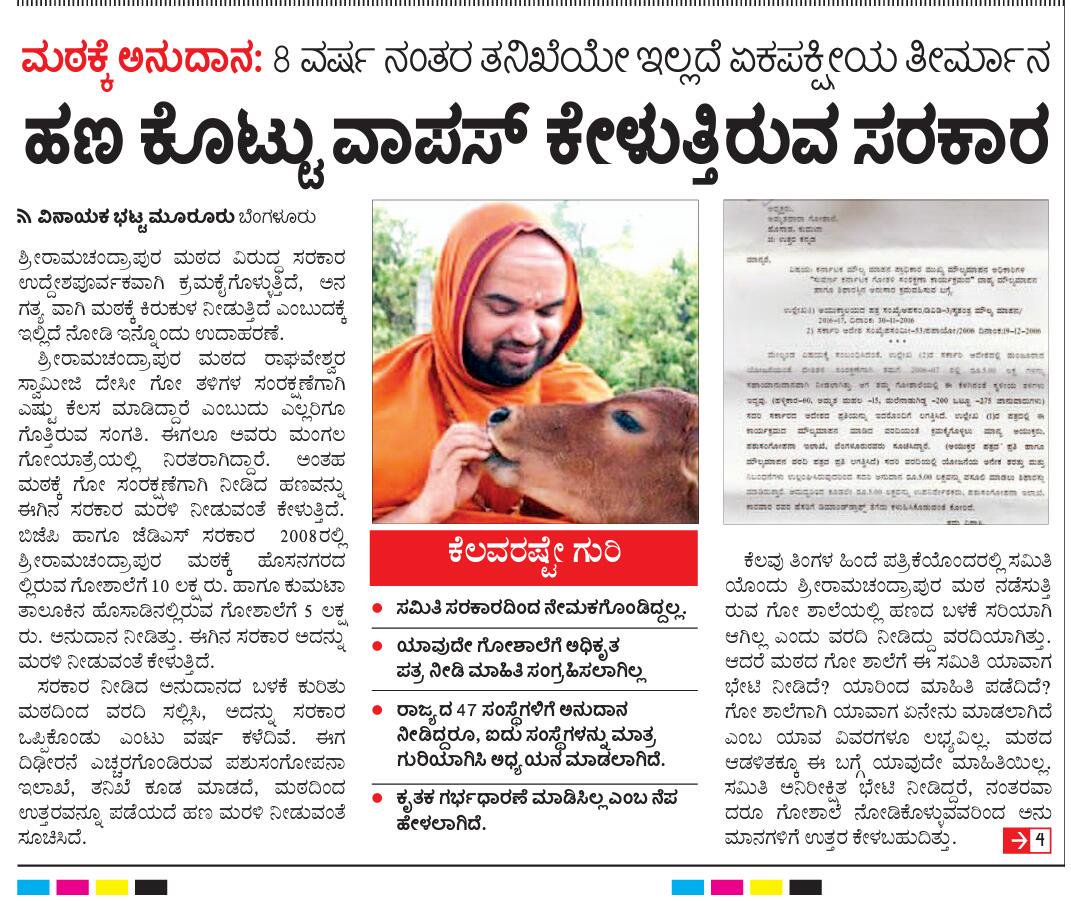 In March 2017, a huge slaughterhouse was planned in a village called Harohalli, near Bengaluru, though villagers protested against it, Govt didn't care! Swamiji sprang into action, lending support to locals.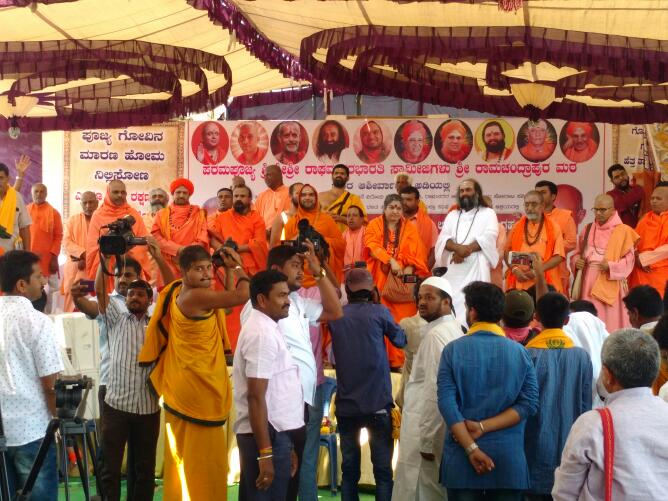 Netas were resisting Swamiji's good work, and then devotees decided to make use of Social Media. With very successful trends they rallied public support!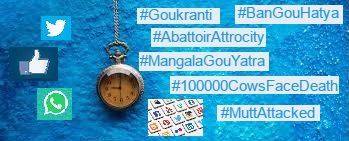 Recently Govt decided to fence Male Mahadeshawara Hills near Bengaluru, endangering the life of 75000 precious native cow breeds who graze the hill for food. It also is a death blow to thousands of villagers dependent on these cows for survival. Seer again sprung into action! Please read the news article below for more details:
http://postcard.news/cold-blooded-murder-native-cows-karnataka/
Based on Swamiji's call to help these cows, devotees went on simple food, simple living, fasting one meal a week and then donating savings for cow fodder. Some devotees even sacrificed their jewels! Heard these devotes saying- if it is not used now, then whats is the use of these jewels?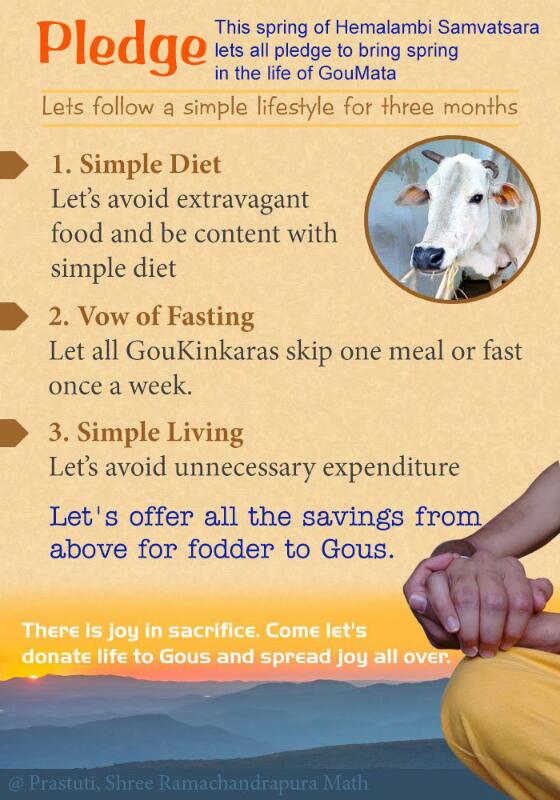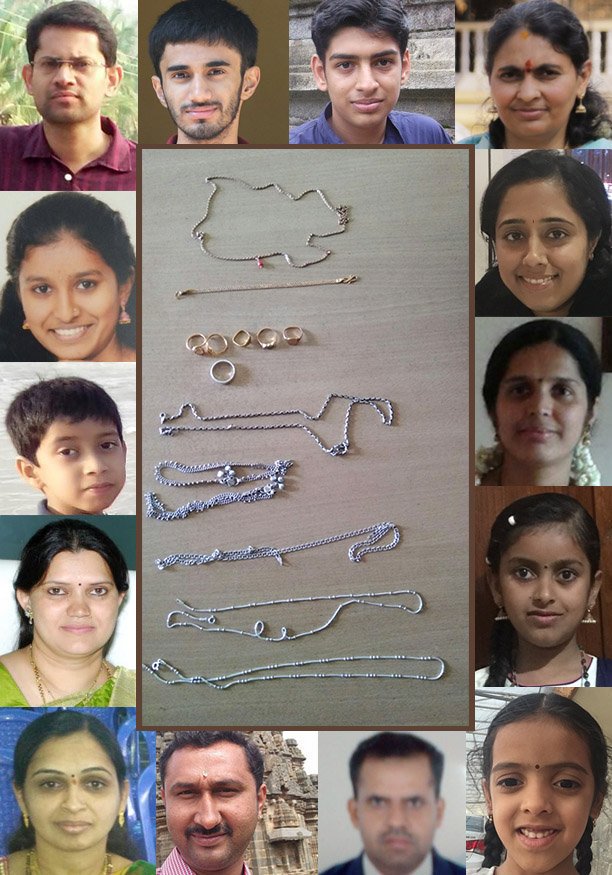 When 7.5 Ton of fodder was delivered on first day, beginning of April 2017, the hungry cows had a feast and were happy, so did the Swamiji & devotees were on complete joy!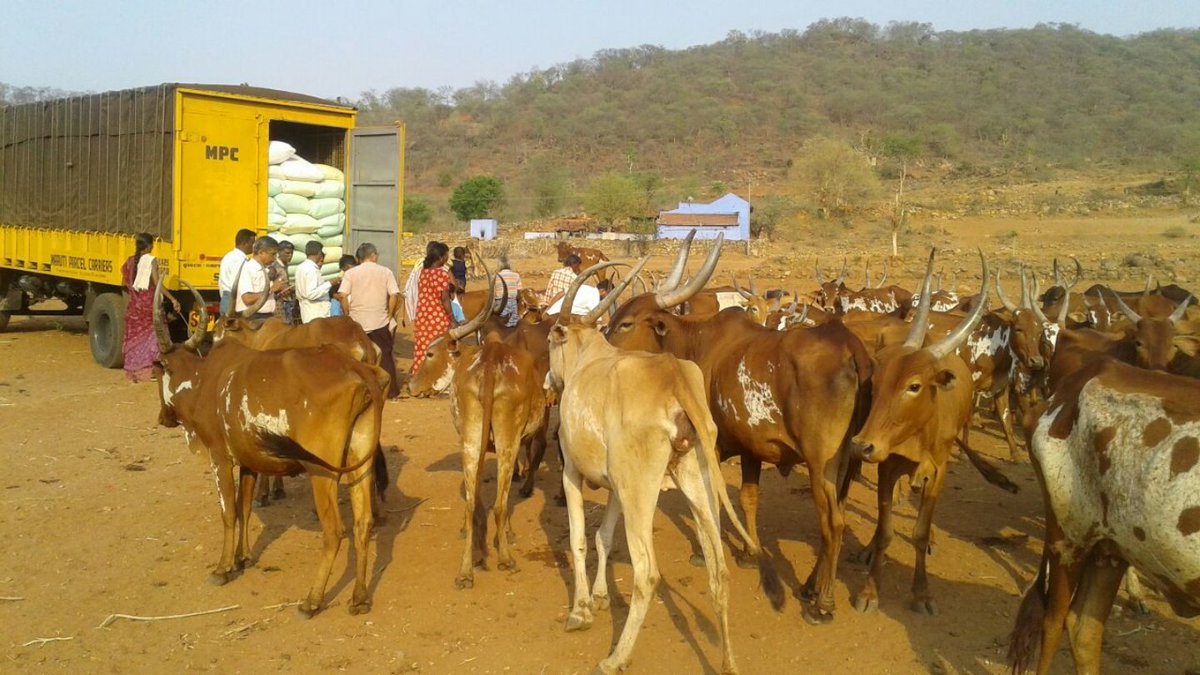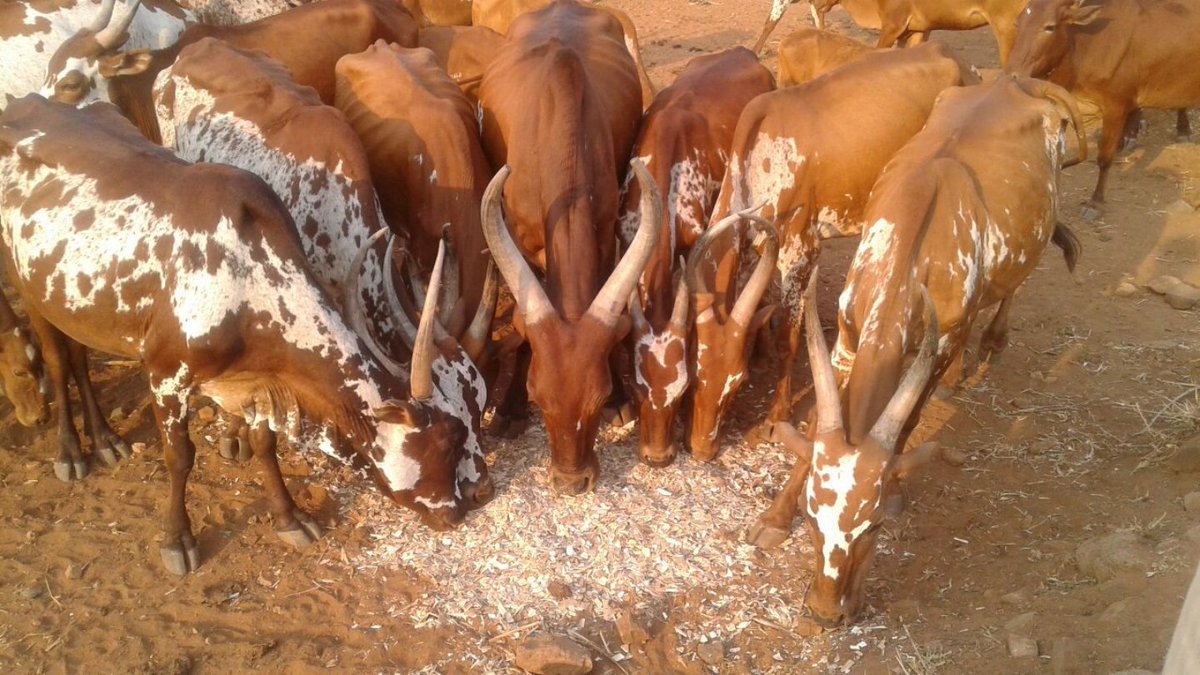 Feeding thousands of these cows is a mammoth task requiring huge resources. We then planned to support the great cause by the Seer using the power of Social Media. We went on a bigger online campaign with the hashtag #GiveUpAMeal. We set ourselves a very high target of "Reaching A Million People" via Twitter campaign and planned the campaign for 17 April 2017, Monday the weekly fasting day. We had regular discussions and we came up with the blue print with the campaign planned to the last minute details. I will try to discuss the creative ways we used Social Media for this social cause  in another blog sometime soon.
On the actual campaign day, many popular Twitterattis supported the cause by changing their Twitter profile names, by tweeting about the cause. The core campaign team was on top of the world when we could cross the target and reach 1.02 Million people and still counting! Many people donated during the online campaign and the campaign had amazing ripple effects. The issue is now out in the bigger world, many news portals are supporting by running wonderful articles about the cause, celebrities are coming in to join hands as well.
#GiveUpAMeal 'Reach a Million' successful campaign story is published in two big online news portals:
Let's support this social cause of saving native cows. If you want to donate please contact the Ramachandrapura Mutt. You can refer the below for contact and donations details as provided by the Mutt team.

Jai Hind and Vande Mataram!
Twitter: @girishalva